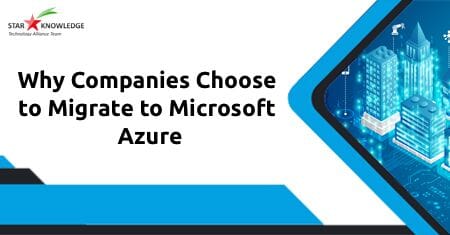 01 Oct

Why Companies Choose to Migrate to Microsoft Azure
01 Oct 2019
Cloud computing is booming, and studies reveal that 94% of enterprises around the globe are already benefiting from cloud services. When it comes to Microsoft's flexible, enterprise-grade cloud computing platform – Microsoft Azure – enterprises prefer migrating to Azure thus making it the most sought after cloud computing service.
Unarguably, maintaining on-premise infrastructure is a challenge for companies to manage their routine to critical business operations hence companies have realized the value IaaS, PaaS and SaaS are adding to their business, therefore, they are actively seeking Microsoft Azure migration services.
Microsoft Azure, unlike other cloud service providers such Google or IBM, offers attractive services including computing, analytics, database, mobility solutions, storage, and networking to businesses of all sizes with the highest level of security. It offers cost-effective solutions making it easier for developers to develop web, mobile, IoT and enterprise applications. Azure is helping businesses realize great success and is redefining the way they operate.
Reasons why Companies Choose to Migrate to Microsoft Azure
Whether you want to entirely migrate to the cloud or want to have hybrid cloud infrastructure, Microsoft Azure is the best cloud computing service you can decide to choose. Here are the top reasons for rapid Microsoft Azure migration:
Simplified Infrastructure Management
The major benefits businesses leverage is from the cloud infrastructure. Microsoft Azure has the best Infrastructure-as-a-service (IaaS) enabling companies to outsource cloud computing services on pay-for-what-you-use subscription. Microsoft manages everything from security upgrades to infrastructure upgrades for businesses giving them maximum flexibility on cost and in the age of rapid technology disruption staying on-premise is not a good idea.
We live in an unimaginably unpredictable world where disasters occur any time and once businesses are hit, recovery from the loss comes with a hefty price. Studies reveal 40% of small businesses never fully recover when hit by disasters and we can't imagine their survival after such loss. Businesses are migrating to Azure because they just don't want to be another example among companies that suffered loss without cloud computing. Azure Site Recovery (ASR) provides the best DRaaS (Disaster-Recovery-as-as-Service) to help you sustain major disasters without losing business continuity. Also, On-premise servers need to be upgraded every 5 years and they come with heavy capital investment plus they have a risk of crashing early and if migrated to Azure businesses forget the worry of on-site hardware.
Let's admit it! Businesses face security breaches every now and then on-premise and due to the rise of sophisticated cybercrimes, datacenter security is at risk. Organizations without cloud computing, regularly fear employee/customer data leaks thus investing considerable time and money on securing the data. Organizations that have turned to Azure cloud computing have realized it is the most advanced and protected cloud service.
Unlike other cloud providers like IBM Cloud or Google Cloud, developing, testing, deploying and maintaining business-critical software and applications on Azure is faster than you can imagine. Businesses are exploring new ideas & new technologies in Azure. Enterprises are largely benefiting from Azure Stack and are bringing in fast-paced innovation with just the right amount of flexibility and control. Moreover, Azure's ExpressRoute connections provide higher reliability and faster speed than typical internet connections.
Fully Integrated Development
Azure is a fully integrated development platform where enterprises are integrating everything from the Internet of Things (IoT) to Excel for scalability and carrying out busy critical processes. With Azure, organizations reduce the risk of integration failure and experience great continuity. Its fully-integrated delivery pipeline enables companies to increase efficiency in case of product upgrades & other changes creating a convincing business case.
Maybe you're wondering if you should entirely migrate the business to the cloud or maybe you still want to have sensitive, business-critical application/data on-prem and in this case, you can stay on-premise and still be able to benefit from Microsoft Azure using a Hybrid Cloud Model. The best decision would be to stay on-prem alongside migrating lesser sensitive data on the cloud, with this your businesses can optimize existing assets and overcome complexities.
Migrating to Azure means to achieve higher business agility and not having to worry about managing your IT infrastructure. The expert Cloud Solutions Consultants at Star Knowledge take care of your cloud infrastructure/migration needs to make Azure work right for your business.  Contact us now to have an infrastructure designed that best suits your business needs.
Microsoft Excel was considered as one of the best Traditional Reporting tools. Let's agree that Excel……
The client is one of the leading construction companies in North America.The Client currently uses SharePoint……
Project Management Information systems (PMIS) are commonly used by construction companies around the world…..