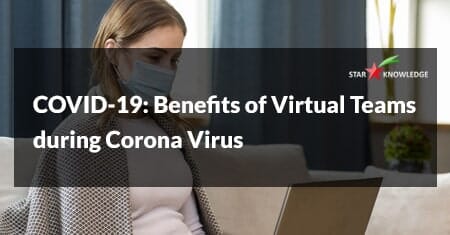 23 Mar

COVID-19: Benefits of Virtual Teams During Corona Virus
23 mar 2020
There's no doubt that the novel Coronavirus has led businesses into extreme work challenges. To overcome these challenges, companies have shifted their working patterns and have embraced 'Remote Work' to avoid any negative impact on employees' health as well as the business. Employees who are working remotely, continue to perform their duties & contribute to their organization as per the work-from-home (WFH) policy. One detail we can here pay close attention to is that COVID-19 has boosted the trend in remote work that was already a key phase in the modern workplace space. And during this crisis, companies have understood the importance of outsourcing software development as well as the importance of virtual teams during the pandemic.
It is unfortunate that businesses in most industries are severely affected by the  COVID-19 outbreak. Industries like Travel, Automotive, Manufacturing, Oil & Gas, Entertainment, Banking, and Education are severely hit while the least impacted industries are E-Commerce and IT. The IT industry has seen a minimal impact as Tech firms are typically more agile. The business is usually resistant as remote work is a norm in the IT industry.
To look at the greener side, the "remote-work culture" that's being embraced due to the pandemic seems to be accelerating the 'Hire Remote Developers' or 'Team-as-a-Service' model as it is the most beneficial way to hold the business continuum.
Let's see how Work-from-home (due to Corona Virus) and Team-as-a-Service model are similar:
Employers embrace the remote work culture
Technology plays a vital role
Increased use of digital channels
Companies invest in the appropriate communication & collaboration tools
Improved digital employee experience
Better work-life balance
Thus, it is very obvious that the pandemic is accelerating the future of work – Remote work.
With wide experience in supporting software development & IT companies with our 'Hire remote developers' model, we have witnessed accelerated interest for hiring remote developers during the crisis as businesses in the service industry are trying to minimize the impact of the pandemic (Check out how we set up remote teams for a Microsoft Partner). And if you're looking to set up a remote team, why not partner with us? Now, here we bring to you the benefits of hiring virtual teams and how you can avoid massive business impact with remote developers for hire.
What is a Virtual Team?
A virtual team is a group of employees working remotely. The employees are spread across different locations/parts of the world, distributed across different time zones but united by the same objectives. Virtual teams are brought together by telecommunication technologies. Online collaboration such as audio conferencing, video conferencing, web-based media etc. form the critical means of communication. Virtual teams are known to form the ideal project teams with qualified, skilled, and experienced personnel. The "Hire virtual team' / 'Hire remote talent' model has witnessed a rapid adoption in the market as companies are trying to survive through the effect of the pandemic. Now, let's talk about the advantages of virtual teams and how hiring remote employees during the pandemic can benefit your organization.
Here's a strategy to build a strong remote team.
Importance of Virtual Teams During COVID-19 Epidemic
Balancing Service Demand and Supply – Hire remote developers for uninterrupted business continuity
Breaking the Chain – No social interactions, Virtual Meetings avoid the spread of the disease
Access to niche talent – Hiring a virtual team is the best way to meet project needs – whether long-term or short-term
Cost Savings – Remote Teams help you save costs on recruitment, employee onboarding, training, infrastructure, etc.
Virtual Teams are the Present and the Future – Every business is going to hire either a remote developer or an entire team to maintain business agility
Benefits of Virtual Teams During COVID-19 Epidemic:
When you engage remote developers, you slow down the spread of Coronavirus and preserve the safety of the people. As a  manager, you're likely to be less concerned about the employees' health as they're protected and safe working at home. Keeping employee safety at the center, you will still be able to maximize stability and avoid severe business impact as employees here require less supervision due to the nature of their job.
We now see great concern and panic among managers as they're clearing offices and looking for best practices for managing employees who are working from home. But when it comes to remote teams, they are largely hired due to their ease of management.
Managing remote teams is a lot easier as they're highly skilled in handling projects and clients regardless of the different time zones. Simply put, Coronavirus is directing managers towards a better way of work.
Distributed teams bring higher work flexibility than traditional in-house employees. They scale up in terms of workflows,  are 13% more productive and are not chained with schedules or operating hours. Homeworking is a norm to virtual teams and managers don't have to worry about communication challenges, loss in productivity, on-time project completion, and several other roadblocks.
Dedicated remote teams are believed to improve employee productivity by 43%. Working remotely means a better work-life balance, and a better work-life balance keeps employees motivated, happy, and more focused. Remote employees deliver better quality work as they claim to commute 78% lesser and have 78% less stress.
Higher ROI on Technology Investment
Companies are investing heavily in modern communication and collaboration tools like Office 365 & Microsoft Teams as remote work is on the rise due to the Coronavirus outbreak.
Remote work means online communication, online messaging, online meetings, and online document sharing. And remote teams are meant to make use of technology to stay connected and deliver projects. Investing in modern collaboration & communication tools gives maximum long-term returns to businesses, especially now in a situation where business leaders are predicting a permanent shift towards remote work.
Why Hire Remote Developers (Remote Team) during the Pandemic?
The benefits of virtual teams are numerous, so here's why you should hire them:
Outsourcing remote developers avoid the spread of the virus
You get access to global talent
Higher productivity
Use of technology breaks the silos
Reduction in the employment/recruitment cost
Higher flexibility
Faster business scalability
The benefits of virtual teams are not limited to the above, there are several other significant advantages to consider such affordability, diversity, higher employee retention, and more. Businesses around the globe have achieved a competitive advantage by onboarding remote developers to their teams as they make a good alternative to hiring in-house talent. Engaging remote developers for hire is a great way to avoid adverse business impact and especially when the need to stay distant from social engagements and interactions is a must.
If you're looking to hire remote teams, contact us today!
Do the Five, Help Stop Corona virus.
Looking for solutions to support the growth of your business? Or are you eyeing to cut down on……..
A large construction company in North America engages……….
Co-locating employees is the thing of the past; software development teams today……