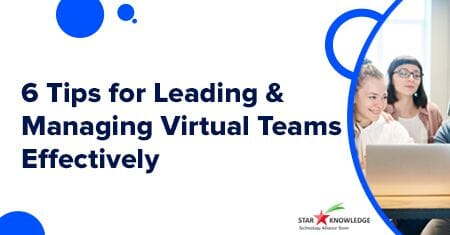 10 Jan

6 Tips for Leading & Managing Virtual Teams Effectively
10 Jan 2020
Before building Virtual teams, companies should know their challenges and how to handle them. Co-locating employees is the thing of the past; software development teams today are not restricted by culture, languages, or boundaries. Startups, SMBs, and large businesses have all validated and turned towards the Remote Dedicated Development Team Model that combines all the skills, talents, and perspectives to achieve highly consistent corporate goals virtually.
Read: Benefits of Hiring Virtual Teams
Companies have begun to organize projects over distance by hiring dedicated remote developers located across different geographies acting and delivering as a team (Learn why companies prefer virtual dedicated teams). Every company you look into today is leading at least one virtual development team. It is due to the flexibility, immediate deployment, years of experience, and effective project execution of the remote developers that the leaders of Virtual Teams call themselves the most effective in business and there is no doubt, they are the future of our workforce.
Now let's have a look at the benefits you can achieve by hiring remote software developers against freelancers and in-house talent:
We understand that managing virtual teams has hair-tearing challenges but we cannot deny the statistics flowing across the internet that remote software developers are outperforming in-house teams. After the pandemic, almost 80% of professionals are working remotely and are demonstrating more than 15% of increased productivity.
Now let's have a look at the challenges of hiring a virtual dedicated team:
Ineffective Communication
Lack of Trust & cohesion
Risk to Productivity
Cultural barriers
Difficulty in conflict resolution
Looking at the above 5 challenges in hiring & building virtual teams, don't you think the same challenges prevail within the in-house teams in some capacity?  With the advancement in technology, improved means of communication, and modern work culture, don't you think virtual team management in the workplace is not as tough as we think it is? Yet let's look at some of the actions you can take to overcome the challenges in managing virtual teams:
Read: Learn how we set up Remote Teams on Microsoft Solutions for a Microsoft Partner
Here are the following best tips and practices to manage virtual teams to build a successful digital workplace.
Action 1: Standardize Work System
Each member in your virtual team might belong to a different culture and to a unique work culture but due to their highly flexible nature, you can undisputedly standardize the work system for the project and tasks to be carried out to achieve desired results. By setting strong standards and repeatable work processes, you can avoid frequent confusion, questions, and misunderstandings among the team members. This way the remote employees attain cohesion and achieve goals in collaboration.
Action 2: Establish Multiple Communication Channels
Do you use a single communication channel/tool at your organization? We bet you don't. In order to manage a virtual team effectively, communication and collaboration channels play a vital role, because a single platform to achieve communication will benefit organizations in planning and handling group tasks, workflows management, content updates, group notifications, meeting notes, project updates, access management, etc., where every objective of a business can be managed at a single platform like modern workplace solutions from Office 365.
Action 3: Practice regular meetings
The challenge of 'Ineffective Communication' makes you pay a huge debt in handling virtual teams and it can be overcome by implementing the practice of regular meetings. Scheduling online meetings (face-to-face video conferencing) regularly will eliminate confusion and promote honest feedback among the offsite development team members. As a project manager, you can also schedule one-on-one meetings with the team members when the situation calls for it one advantage of this is your rapport with the team will be enhanced. As a PM, you can also encourage a social meet-in-person gathering twice or thrice a year for your offsite team.
Action 4: Open room for informal conversation
When you provide room for informal conversation it is most likely the bond within the virtually connected team becomes stronger and the members will be more open and communicative with each other. Virtual team building is easier when you encourage informal conversation and allow members to chat informally during planned virtual collaboration activities. After all, positive outcomes are hard to achieve when there is distorted cohesion.
Action 5: Respect the time zones & overlaps
When building remote teams, it is obvious that not every talent will hail from the same time zone. As a project manager, it is important that you make sure the whole team sits together for at least 3 hours. To ensure only a single member doesn't have to wake up early or go late to bed all the time, you can rotate the times every week, this will not only satisfy the team but also fulfill project goals.
Action 6: Encourage Relationship Building
Building relationships between fellow employees will be a hard task for employers during handling teams virtually, due to the lack of opportunities for face-to-face communication and interactions, this makes them feel a collaboration gap inside the team. As a remote team manager, promote relationship-building among the team members by encouraging consistent communication and trust through various team-building activities and virtual event celebration platforms. This way remote employees cultivate trust through diligence and honesty, positive energy in the team facilitates frequent follow-ups, quick task completion, and faster problem resolution.
Conclusion
The dedicated virtual team model has gained exceptional popularity among the IT and software development companies in recent years due to the higher efficiency, flexibility, better control & management, and saving on cost by 65%.
Star Knowledge since the inception of 'Team-as-a-Service', has been helping companies in acquiring and managing the right global delivery team. We aim to close the gap between project needs & resource gap by providing niche developers across technologies and platforms like Android, iOS, PHP, WordPress, Magento, Office 365, Dynamics 365, SharePoint, and many more. Contact us to learn more about our pricing models.
Have you ever worked with virtual dedicated teams? Or on the other hand, do you require an entire control………
There's a lot of good work being done within organizations to enhance staff engagement and to help employees………
Looking for solutions to support the growth of your business? Or are you eyeing to cut down on your…….