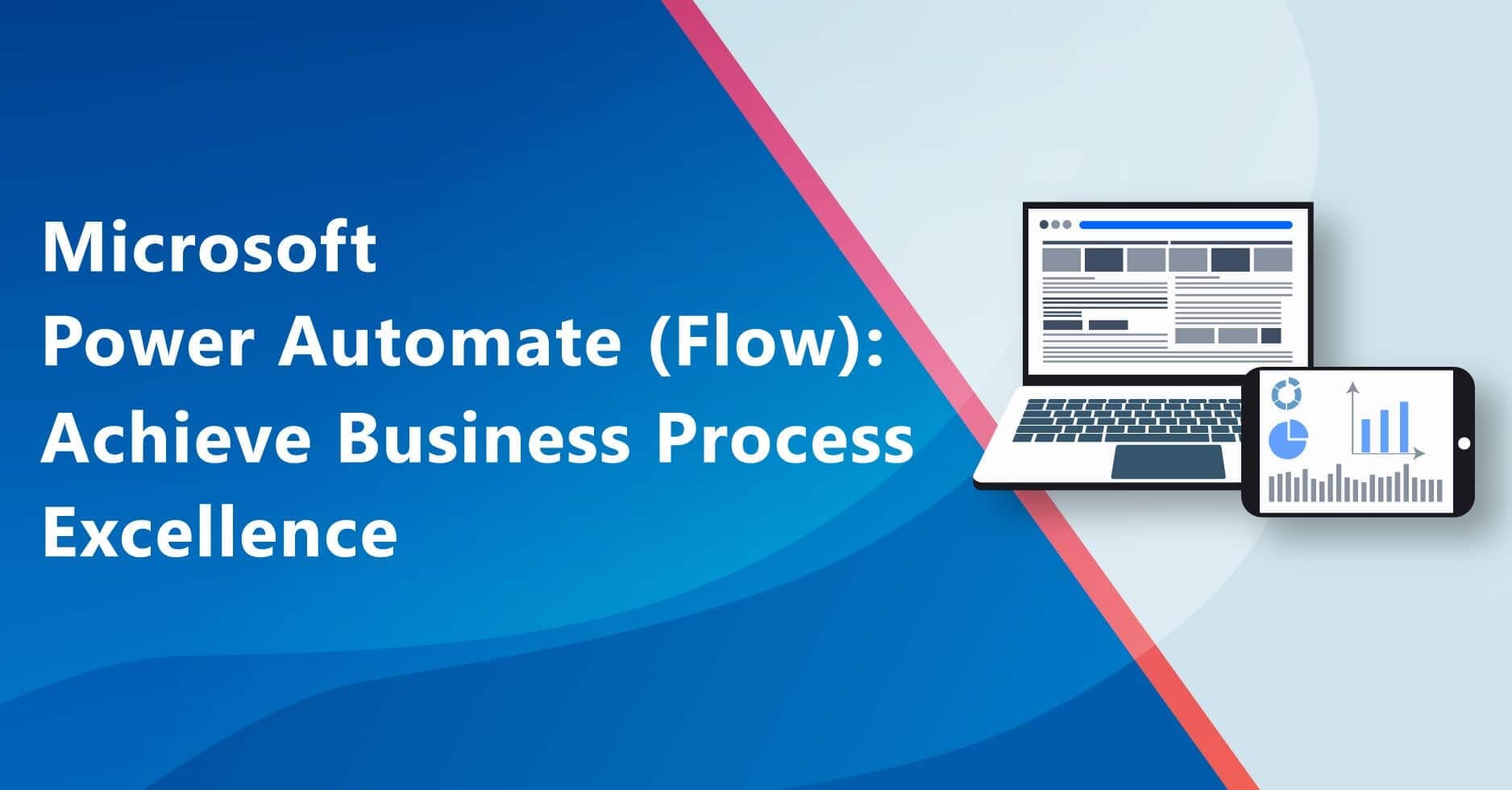 02 Jul

Microsoft Power Automate (Flow): Achieve Business Process Excellence
02 JUL 2020
Name an industry that's not after business process excellence.
When it comes to reducing the overall operational costs and eliminating manual efforts, organizations today have realized that Business Process Automation (BPA) is critical for the business and Microsoft Power Automate (formerly known as Microsoft Flow) is built for the purpose.
What is Power Automate?
Microsoft Power Automate, formerly known as Flow, is a cloud-based service used to create automated workflows. It is a low-code automation tool, part of Microsoft Power Platform, built specifically for workflow and process automation. It includes powerful Robotic Process Automation (RPA), called UI Flows, that allow quick and easy automation of time-consuming manual processes.  The Office 365 service seamlessly works with other Microsoft solutions such as SharePoint, Power BI, Power Apps and Microsoft Teams. The best part about Power Automate and business process automation within the platform is that it does not call for coding skills and experience.
What can You do with Microsoft Power Automate (Flow)?
Create workflows yourself
Automate recurring, frequent, routine tasks
Automate legacy business processes
Automate cloud applications and databases
Design logic for Power Apps
Check out how a construction firm achieved document approval automation in SharePoint with Power Automate.
Benefits of Business Process Automation with Power Automate
Forrester's study "The Total Economic Impact of Power Apps and Flow" states that organizations can save as much as 122580 hours from business process automation. Read the analysis of the study here.
Automate & Streamline Everyday Tasks
Every morning when you log in there are several routine tasks in the queue that you cannot skip to actually start working on critical jobs. These monotonous tasks do consume a big portion of our productive hours and sometimes get on our nerves. So, why not automate them? One of the most crucial benefits of Power Automate is streamlining the daily / weekly time-consuming tasks to dedicatedly focus on critical business operations. You can create workflows using available standard templates or can also build custom workflows and connect to desired applications.
Boost Workforce Productivity
Microsoft Power Automate is built for the purpose of creating time-saving workflows that help in boosting workforce productivity. With this business process automation tool, companies can optimize workflows to achieve efficient way of working. Create automated workflows that perform several tasks automatically based on triggers at the occurrence of an event. You can not only automate individual tasks but can also automate large-scale systems and complex workflows with 'Logic Apps'.
Quickly Connect, Share, and Access Business Data
Microsoft Power Automate allows the creation of automated workflows between your critical business applications and systems for rapid data collection, file synchronization, notifications and alerts enablement and more. You can connect to all of your software systems and apps by using 100+ data source connectors for data collection, analysis and report generation from any location.
Easy Integration with Other Applications
Power Automate is a trigger-based tool that allows integration of workflows into different business apps with the help of Connectors. Connectors help in integrating the workflows with internal and external applications to help you automate processes between them. The common Power Automate connectors are Dropbox, Office 365, Dynamics 365, Slack, Google Drive, Twitter, Salesforce, Mail Chimp, and GitHub. This is not it, the platform also allows creation of custom connectors by describing APIs to the app you want to connect to.
Types of Flows in Power Automate
The low-code business process automation tool provides the creation of several types of flows:
Automated Flows – This type of flow allows the creation of a flow from scratch to enable the performance of several tasks automatically when a defined event occurs.
Button Flows – Button flows are the instant flows for running frequent repetitive tasks at the tap of a button.
Scheduled Flows – Flows that perform one or more tasks on a specified day and time.
UI Flows – UI Flows bring RPA capabilities to Power Automate for automation of repetitive tasks. You can create automated flows for desktops and web applications using the UI Flows.
Approval Flows – Create document approval workflows by adding 'Approvals – Add an approval' action to any of the flows
Microsoft Power Automate Capabilities
Robotic Process Automation – UI Flows
Robotic Process Automation (RPA) capability, responsible for automation, turns manual tasks into automated workflows using record-and-playback ability based on human-driven interactions. When your organization is jammed up with legacy applications whether running on-premises or in the cloud or both and lack communication among them, you can put automation to work with RPA (UI Flows). UI Flows lets your business scale across legacy applications and modern services. With this Power Automate capability, companies can automate both modern applications with APIs and legacy applications with incomplete APIs and can also combine legacy apps, modern apps, and manual processes in single automation.
Chatbots are trending and today businesses are creating chatbots for anything and everything. Microsoft Power Virtual Agents allows the building of intelligent bots without any training of coding and Artificial Intelligence. Today, you don't have to be a data scientist or a skilled developer to be able to build chatbots. Microsoft has made it possible for anyone in the organization to build intelligent chatbots using a guided, no-code graphical interface.
When you're automating processes, why not add some more intelligence to them? With AI Builder, Microsoft lets you build intelligent automated processes with Artificial Intelligence that's easy to train and configure within Power Automate. You can use prebuilt AI models or build your own models without writing a single line of code and increase efficiency throughout the organization.
Want to explore and leverage Power Automate (Microsoft Flow)? A Microsoft Partner like us, with expertise in Microsoft Power Automate and Power Apps, is here to help. Get in touch with our Power Apps and Flow consultants today!
There's no doubt that Microsoft Power Apps is disrupting the application……..
The client is a conglomerate of eight organizations in Latin America The client…………
Microsoft PowerApps is blowing minds. Microsoft launched the no-code…….