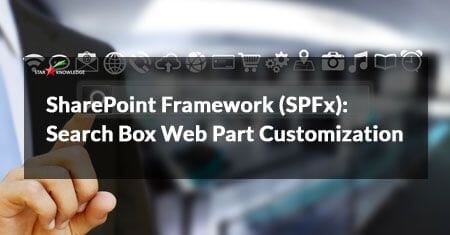 08 May

SharePoint Framework (SPFx): Search Box Web Part Customization
08 MAY 2020
The Client
The client is a mid-sized Managed IT Service Provider in Chicago, USA providing fast and reliable nationwide IT support services to small and mid-sized businesses with a vast network of IT professionals.
The Need
The client had Microsoft SharePoint Online environment set up with several document libraries in place for business and client management.  The client needed to customize search box web part and its position for one of the huge document libraries accessed frequently by the employees. With a need to provide users with easy and quick navigation of information in the desired document library, the client approached Star Knowledge for customization of its massive SharePoint Online document library and enhance its user experience.
The Challenge
Configuring or adding a search box web part to SharePoint lists or libraries is easier while customizing it is not. To customize the search box position for a single library in the client's SharePoint Online set-up was a challenge.
The Solution
With extensive experience in custom SharePoint Online development services, the skilled SharePoint developers at Star Knowledge leveraged the SharePoint Framework (SPFx) platform to customize the overall user experience of the desired document library. The Star Knowledge team of SharePoint developers created an application customizer (SharePoint Framework (SPFx) extension) which allows customization of different SharePoint locations for unique business / functional requirements.
Using the application customizer, our seasoned SharePoint experts wrote and applied the HTML and CSS scripts to the desired document library which required the search box web part customization.
Benefits Obtained
The search box appeared in the desired position for the document library in question
Easy and quick navigation
Enhanced user experience
Technology
SharePoint Online
SharePoint Framework (SPFx)
Application Customizer
Have a similar SharePoint customization requirement? Star Knowledge has been delivering custom SharePoint online development and SharePoint consulting services since 2011. Our consultants have deep expertise in developing custom enterprise solutions on Microsoft Office 365, Dynamics 365 and Microsoft SharePoint.
Get in touch with our consultants to discuss your business requirement.
A leading construction company in North America engages Star Knowledge……
The client is a global leader in the Electrical / Electronic manufacturing…..
A leading Construction Company in North America with history in constructing……