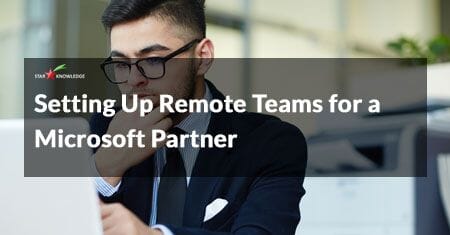 30 Mar

Setting Up Remote Teams for a Microsoft Partner
30 MAR 2020
The Client
A mid-sized Microsoft Partner company providing consulting, development, migration and support services around Microsoft Office 365, SharePoint, Azure, Power BI and other Microsoft technology platforms.
The Need
The client wanted to ramp up their teams with expert skills and minimal cost with remote resources for development and consulting projects around SharePoint development & migration, Power BI development, Exchange migration and server setups, Project Server implementations, Azure functions, PowerApps, and Forms development.
The Challenge
There were new projects coming up almost every two weeks and the client had to hire developers externally for timely project completion and delivery. The client realized that finding and hiring skilled resources for every new project was a time-consuming and costly process and thus shifted their focus towards hiring remote teams.
The Solution
Star Knowledge with its expertise in setting up virtual teams with certified and highly experienced remote developers helped the company to build a team of 20-25 full-time remote resources within one year.
Star Knowledge organized resources for Microsoft technologies, as required by the client, in a span of 2-3 days and built a team of 3-4 members around each technology within a week's time.
Skilled resources were also made available on-demand to help them accelerate, adapt, and scale. Star Knowledge became an extended arm and the client could set up their offshore development center within a very short period of time under the targeted budget.
Benefits obtained from hiring virtual teams
Reduced cost of recruitment and training
High efficiency
Zero infrastructure cost
Access to global talent
Increased margins and better ROI
Reduced employee turnover
No Training
No HR Overheads
More effective management
Technology
Microsoft Office 365
SharePoint Online and On-premise
Power BI
Microsoft Exchange
Project Online
SQL DBA
Want to hire remote development teams? Star Knowledge can support your business with our team augmentation service and help you set up virtual teams with technology-specific niche dedicated developers. Contact us to explore our Team-as-a-Service engagement model and scale up your team in less than 5 days.
Looking for solutions to support the growth of your business? Or are you eyeing to cut…..
A large construction company in North America engages Star Knowledge for……
Co-locating employees is the thing of the past; software development teams today…..