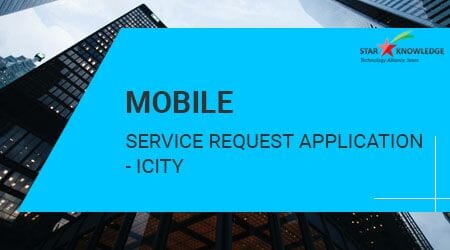 06 Feb

Service Request Application – ICITY
6 FEB 2018
Client
Our client is a solutions and services provider company based in Canada.  They deliver a wide range of services and solutions, from business critical banking systems to life saving healthcare applications. With a goal to bring government services to the citizens providing 24×7 conveniences through multi-channel delivery they are currently serving customers in public and private sectors across Canada and the US
Clients concocted a thought
The client wanted to provide an application to citizens of counties in USA and Canada through which they could submit, edit and track a request to get some basic utilities services completed from the municipality.   They had a web application which provided this facility and they wanted to extend the facility to mobile users.  They wanted to see the response of the residents to the mobile version of the application and hence they wanted only one module Service Request to be developed under mobile platform specifically iPhone/iPad platform.  Since they did not have an internal expertise on Mobile, they took the assistance of Star Knowledge to develop an application.
The need was to develop an iPhone application that allows its users to create new service requests, edit the request if it is not yet resolved and look at the resolved requests
What we proposed
After reviewing all the requirements of the clients, Star K technical team proposed to use Rho Mobile for developing the application.  The biggest advantage of using Rho Mobile was to ensure easy portability of the mobile application to different platforms such as iPhone, Android, Blackberry and Windows mobile while retaining the native look and feel of the application.
Since there was a CRM integration a three tier architecture was proposed to the client.  Here the backend was CRM and SQL server; Web services were utilized to pull information from the CRM and display.
To ensure a user friendly UI, the design team of Star Knowledge worked very closely with the key decision makers from Client 's end to ensure that the UI matches the required standards.  Finally the app was built using following technologies.
Rho Mobile (version Rhodes-3.1.1)
Ruby (Language)
iOS 5.0
Microsoft Dynamics CRM 4.0 (integrated using default Microsoft Webservices)
SQL Server 2008
Results & benefits obtained
The key benefits realized by the Client as a result of the successful project include:
Successful launch of application within a given time frame to meet their go to market strategy
Customer saved thousands of dollars on rebuilding the app on different platforms
The client is one of the leaders in mutual and savings bank, owned by its depositors of their region. Client specializes in the design and delivery….
Client Hospitality Industry Solution Provider Need The Client initiated a strategic objective to develop a new product for their hospitality….
The client is one of the leading Courier Company .in Singapore, Malaysia and Thailand. Clients concocted a thought The Client wanted to automate….