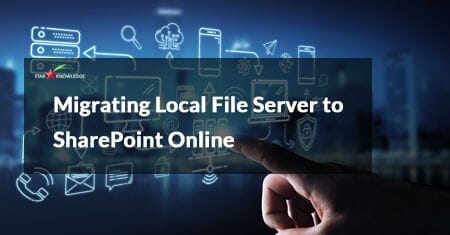 22 Apr

Migrating Local File Server to SharePoint Online
22 APR 2020
The Client
The client is a non-profit located in the USA providing education and technical support for design, engineering, and construction of wood buildings across the United States.
The Need
The client had all their data, documents and files stored in the local file server and wanted to get on-board a modern cloud collaboration platform and thus decided to migrate to SharePoint Online. The client needed a solution that was highly secure, had the ability to manage permissions and access controls and in the age of cloud computing, using SharePoint Online as a file server seemed to be the right decision.
As Microsoft SharePoint Online is known to be an effective replacement to on-premises file servers, the client wanted to move select files with required permission levels and user access keeping the SharePoint threshold limit in mind.
The Challenge
The client's local file server contained business-critical data that required to be migrated to the cloud, the server also contained some legacy documents and dead data which the client preferred to leave on-premises. They were looking for a Microsoft partner who could help them migrate file server to SharePoint Online.
The client approached Star Knowledge for a tailored SharePoint migration service where they wanted only necessary files and folders to be moved to SharePoint Online with required permission levels and user access. The client was also looking for a seamless user experience, ease of navigation, and custom document management.
With a requirement this unique, our SharePoint migration consultants had to decide upon the right SharePoint migration tools and their configuration without which a safe and successful migration was not achievable.
The Solution
The migration required the use of third-party tools for smooth and on-time project completion. With profound experience in SharePoint migration services, the consultants at Star Knowledge planned and performed the migration as below:
Picked the right tools for migration – ShareGate and Tree Size
Analyzed the file server using tree size and ShareGate
Prepared the report of file
Migrated the required folders with basic permission setup
Benefits obtained
SharePoint can now be used for dynamic documents
Improved and efficient collaboration
Highly organized data
Access to all the files on SharePoint online with teams, SharePoint site, outlook and all office 365 component attached
Technology
Microsoft SharePoint Online
ShareGate
Tree Size
Have a similar migration requirement? Or is the case not like yours?
Star Knowledge renders comprehensive support to businesses from a wide range of industries such as Healthcare, Software, Manufacturing, Construction, Real estate etc. Our accomplished consultants and developers have been delivering tailored SharePoint consulting services and migration services from over a decade.
Contact our team today to discuss your business need.
A mid-sized construction company in North America engages Star Knowledge……
The client is an Educational Institute, an ACCA approved learning partner that…..
A leading Construction Company in North America with history in constructing……