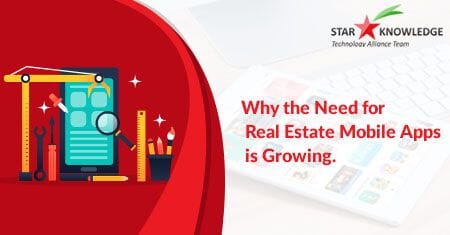 12 Jul

Why the Need for Real Estate Mobile Apps is Growing
12 JUL 2019

The digital age is transforming every business, every industry rapidly and Real Estate industry is no exception. Real estate firms are adopting technology more than ever due to informed customers and their increasing dependency on mobile phones.
Having responsive real estate websites are no longer enough to penetrate the market and win new customers. Customers today actively search for information online for making decisions big or small, from buying a house to ordering food or shopping, thus, it is increasingly important for realtors to be in the mobile app space.
PwC's Emerging Trends in Real Estate report says, "We are getting to the point where, if people don't recognize technologies are existing and moreover, how to integrate them, opportunities are missed." This explains the need for adoption of technology trends thus, not losing out to competitors.
Have a look at the below chart depicting customer behavior on their real estate home search:
Above statistics from National Association of REALTORS® Research Group report shows 93% of customers go through real estate website and 73% of customers use real estate apps on mobiles/tablets for searching properties, no doubt the percentage is going to escalate in future.
99% of Millennials search online followed by 90% of Older boomers and 70% of Silent Generation, and frequency of using the online medium is as large as you can imagine.
Real Estate Mobile Application Development
Mobile application development for real estate is nothing new when you consider Zillow, a business giant in the online real estate industry. The need for real estate app development is growing above and beyond any numbers can tell. Have a look at how customers use mobile apps for real estate home search:
Above statistics show the percentage of mobile users who bought homes on mobile devices, needless to mention, on apps! Millennials are the major audience purchasing their first-homes on their mobiles by installing real estate apps and as a matter of fact, 76% of all buyers bought homes on their mobile devices.
With the everlasting cut-throat competition from digital businesses, would you imagine customers slip by to your competitors? Jump into the mobile app space and achieve those market goals you've set to ramp up your business.
And Here's how Star Knowledge can help:
Star Knowledge, a mobile application development company, has built intuitive real estate management mobile apps to clients in the real estate industry. Our experienced mobile app developers do not just duplicate your website into a mobile app but build exclusive tools and content that fulfill your unique business requirements with perfect mobile application development services.
Contact us for a discussion on how we can help you make a difference in the mobile app space.
The collaboration between technology and education has transformed the way educational institutions operate,……..
The client is one of the leading ISV providing Software products for E-learning and Real Estate Agencies…..
Mobile Application Development trends will be an organic Spin-off of what things looked like in the previous year…..