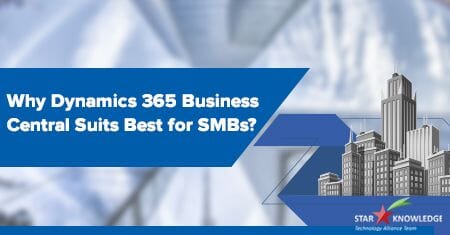 27 Jan

Why Dynamics 365 Business Central Suits Best for SMBs?
24 Jan 2020
As a Small or Mid-sized business, when you are out on a search for the best ERP solution, whether on-premise or in the cloud, you're sure to encounter MS Dynamics 365 Business Central (formerly known as Dynamics NAV) as the best business management solution that helps you automate and streamline business processes as well as manage your business seamlessly. And if you're already a Dynamics NAV customer who's planning to upgrade to D365 Business Central, you will learn why you should hurry in your decision.
So, what is Dynamics 365 Business Central? Why use it? D365 Business Central is an all-in-one business management software solution that turns your current disconnected systems into one and brings people, processes and resources together. D365 Business Central allows you to connect your financials, sales, operations, and services to help you improve customer interactions and make informed decisions.
Features of Dynamics 365 Business Central
Since Microsoft rebranded Dynamics NAV as Dynamics 365 Business Central, we've seen increasing adoption by organizations that are moving towards digital transformation. Let's have a look at some of the dominant features & capabilties of Dynamics 365 Business Central:
Automatically pulls processes and systems together to help you manage financials, sales, operations, supply chain, manufacturing, shipping, etc. all in one central location
Allows easy and smooth integration of third-party applications like payroll, CRM, banking, or any other industry-specific tools
Supports business-specific customizations to help you add new functionalities relevant to your business and region of operations
Integrates seamlessly with other Microsoft solutions such as Dynamics 365 for Sales, Customer Service, and Marketing, etc.
Allows automatic sending of sales quotes, invoices to help you complete order-to-cash cycle
Helps you control operational costs and make smarter buying decisions
Helps you optimize stock management and enhance inventory control
Microsoft Dynamics 365 Business Central Roadmap: Dynamics NAV and Business Central
What functionalities does Dynamics 365 Business Central include?
D365 Business Central, Essential lets you manage your financials all in one central platform. You can easily connect your data across sales, purchasing, accounting, inventory, and customer interactions and chart financial performance in real-time. The application lets you streamline accounts payable, accounts receivables, and automatically reconcile accounts to close. The built-in Power BI dashboards help you make informed decisions; Financial Management was never this exciting! With the Financial Management capability, you can manage banking, assets and more:
General ledger
Cash Management
Fixed Assets
Currencies
Consolidation
Cost accounting and more
Does your business deal with logistics? Are you looking for a SaaS (Software as a Service) which accurately provides a holistic view of your entire supply chain? Business Central is designed to help you keep track of your supply chain cycle, from receiving an order, to order processing, and to product delivery. The SaaS provides you with advanced supply chain management tools that help you manage and process sales orders, transactions, and receivables. Also, are your inventories located across different locations, plants, warehouses or showrooms? No worries! D365 Business Central lets you easily manage your inventory levels, track and account for the inventory in transit. Supply Chain Management capability offers:
Sales order management
Receivables
Purchase order management
Inventory management
Warehousing
Item transfers
Assembly Management
Customer Relationship Management
Customer Relationship Management (CRM) capability is engineered to manage and support your sales efforts. The features of D365 Business Central allow you to sell smarter, achieve more, and improve customer service. The application lets you manage the sales cycle by guiding you across upselling, cross-selling, and renewal opportunities. The module is developed with an aim to help businesses achieve accelerated sales productivity with capabilities like:
Contacts management
Customer interaction management
Segment management
Sales opportunity management
Marketing campaign management
Integrations with Dynamics 365 Sales
As a Project Manager, we understand you've tough time managing projects and you need a 360-degree view of project tasks, support and operational work to staff the projects. D365 Business Central brings you relief! Mid-Sized and Large businesses look for comprehensive Project Management Software to thoroughly oversee their projects and monitor progress. Business Central, as an end-to-end business management app, covers many of the needed and necessary bases to help you manage projects without much effort. The application provides you with project management tools for managing core project management tasks such as job configuration, resource scheduling, budget management, and progress monitoring. It helps you:
Stay under budget
Create, manage, track customer projects
Manage resource levels
Track invoicing against planned cost
Analyze project performance
Manage resource utilization and timesheets
The Dynamics 365 for Talent (basics) is additional! Dynamics 365 Business Central, Essential brings Human Capital Management features that allow you to manage employee records such as qualifications, contacts, and contract information. Organize employee data according to factors such as skills, training, education, experience, etc. and assign codes to each employee and their record. Employee absence management and expense management is an added advantage in the application.
Dynamics 365 Business Central, Premium provides you access to modern Manufacturing and Service Order Management features. The module helps companies in delivering excellent customer service, boosting customer satisfaction, and enhancing brand loyalty. Business Central enables you to oversee service management operations, from order processing, to issuing contracts, and to managing technicians. The application provides service order management tools to register and monitor post-sales as well as manage new service requests, routine maintenance, set and update service prices.
For production / manufacturing businesses, Business Central, Premium brings manufacturing tools and a range of features to help them manage and streamline their output. As a user from the manufacturing industry, you can effortlessly create production orders, manage production bill of materials, and more. With the Manufacturing application you can seamlessly undertake:
Production orders
Version Management
Agile manufacturing
Supply planning
Demand forecasting
Capacity planning
Machine Centres
Finite loading
Unify business, boost efficiency with automated tasks and workflows
Gain completes view of business and achieve greater results
Gain better understanding of monthly costs, team budget
Enjoy advanced features such us focus mode, late payment prediction and more
Embrace Machine Learning and AI
Out-of-the-world cloud data security
Conclusion
Microsoft Dynamics 365 Business Central is one of the best business management solutions designed keeping at the centre the specific needs and business challenges of small and mid-sized businesses. The cloud-based solution helps you streamline business processes, make smarter decisions and accelerate growth. If you're looking at implementing Business Central, then Star Knowledge's Dynamics 365 consulting services can assist you in carving success & achieving digital transformation.
Rapidly changing demands of modern customers and their need for a seamless & personal shopping……….
Whether you're already using an ERP system or looking for one, you must have heard of Dynamics 365……..
When it comes to a good Customer Relationship Management system, Dynamics 365 for Sales has seen…….