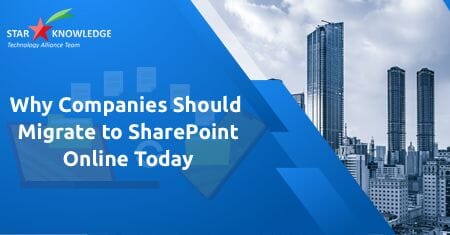 24 Sep

Why Companies Should Migrate to SharePoint Online Today
24 Sep 2019

Planning to migrate to SharePoint Online? Microsoft SharePoint, since its inception, has played a vital role in enterprise communication & collaboration; no wonder Office 365 & SharePoint have revolutionized the way organizations operate.
SharePoint has transformed so much going from just an application to a robust modern workplace platform for collaboration, document & record management alongside offering web content & portals helping companies bring in higher productivity. It has brought in numerous cool features and Microsoft wouldn't stop adding more.
Studies reveal 55.56% of SharePoint users are aboard SharePoint Online already
It's not surprising companies that have migrated to SharePoint Online define older On-premise versions of the platform as clunky and incompatible with modern technologies. They are fostering higher productivity and effective communication by moving to the cloud, hence businesses today are migrating to SharePoint Online without investing an additional thought.
Why Migrate to SharePoint Online?
As a cloud-based service, SharePoint Online helps companies leverage public-facing websites, an intranet and a large number of sites for teams/organization-based solutions on a single platform. Below are the reasons why businesses should be migrating to SharePoint Online:
First things first, Security is the ultimate factor businesses argue about the most when trusting cloud technologies and why shouldn't you be? Especially when you're talking about moving sensitive, confidential and business-critical data. The truth is Microsoft doesn't reveal where its data centers are located plus it adds additional multiple layers of physical security and you can rest assured your data wouldn't be mined for marketing/advertising purposes. They also maintain multiple levels of backup and this is the ultimate data security that you can have.
Other similar post: Office 365 Security Best Practices
Free from Maintenance Menace
Maintenance of data centers & on-premise storage is unquestionably vital but how much of your operational cost is it eating up? Ever gave a thought? By researching & validating hundreds of challenges in cloud migration, the decision-makers often overlook or neglect the forever benefits of migrating to the cloud, Cloud migration experts like us are by any way going to crack those challenges down for you. SharePoint Online helps you bring down the gluttoning operation cost & save you hours together in just 15 minutes of upgrades & backups.
With SharePoint Online, Companies enjoy the privilege of owning the best & the latest features of the platform instantly on their release. The online version of SharePoint is always the first to get all the new capabilities & security patches before the On-Premise versions do. Upgrading/updating on-premise versions need time, resources and sometimes pausing operations but on the cloud, it doesn't work that way, Microsoft manages those minor and major upgrades for you without the need for your minimal efforts.
Management of External User Access
Let's agree, it's difficult managing user access outside your domain on-prem. It has also been a great deal of confusion over the lengthy log in process on the cloud but Microsoft recently has brought in a lot of improvements in SharePoint Online which has made it managing external user access lot easier. Through the use of Services Management Portal businesses are highly leveraging external file/information sharing and with this, it has become easier for enterprises to collaborate with their clients wherein the clients can raise tickets and regularly monitor the project progress.
While you're dearly attached to your On-Prem deployment you can still be able to derive benefits of SharePoint Online because it's not an 'either' and 'or' situation with on-prem and the cloud; the hybrid deployment is here to save the day. If you're still afraid of security breaches and moving to the cloud then you can largely benefit from the hybrid model. You can keep the most confidential data on-premise and migrate the rest of the data to SharePoint Online like your everyday collaborations, this will save you from investing in the "rip and replace" method.
Other similar post: On-premise SharePoint migration to SharePoint Online 
OneDrive for Business Benefits
With 1 TB of personal storage quota along with your overall SharePoint Online storage, you can save and share millions of files/folders with the highest level of security both internally and externally. The cloud-based document storage platform – OneDrive for Business lets you move beyond the traditional way of risky network shares and especially if you're an IT Director, you will understand this is the best solution for data sharing.
With modern work culture, we're no more tamed to a single place. We enjoy working in mobility and take control of productivity virtually. Office 365 and SharePoint Online lets you access all the documents, files and folders on the web and on your mobile (Apps!) in case if you have forgotten to take your work PC with you. Yes, attend to those important emails, presentations, and analytics anytime, anywhere on any device. Shout-out to productivity!
Well, there are all the more reasons to migrate to SharePoint Online while the above are just a few.SharePoint Online migration has never been difficult or this easy if I may add. Another major benefit of SharePoint Online migration is that there's no further migration. No more challenges just rapid, smooth productivity.
The Incredible Features of SharePoint Online
Touch-enabled interface for mobile devices
Seamless document collaboration
Automatic updates to the environment
Quick and easy navigation
Exceptional document management, storing and sharing capabilities
Automation of business processes with Flow (Power Automate) and Microsoft Power Apps
What's New in SharePoint Online?
Microsoft rolls out great functionalities and features to its products very often. And SharePoint Online has a gaggle of new features and improvements:
Reimagined User Interface – Complicated UI transformed into a modern, simpler UI
Drag-and-drop – Content uploads now easier than ever. Drag documents from your computer and drop them into SharePoint
SkyDive Pro – Cloud storage service, now a core part of SharePoint Online
Increased cloud storage limits – SkyDive Pro storage limit increased from 500MB to 7 GB
Yammer – The social networking service is now prevelant with SharePoint Online
As expert SharePoint consultants with Microsoft Gold collaboration and content competency, the team at Star Knowledge smoothly manages your SharePoint Online Migration process and challenges with least efforts. If you're considering moving to SharePoint Online, contact our migration experts and discuss the path best suitable for your business.
Project Management Information systems (PMIS) are commonly used by construction companies around ……
The client is one of the leading construction companies in North America.The Client currently uses SharePoint……
Unlike visiting a family practitioner or a specialist physician, a common misconception that most patients…..