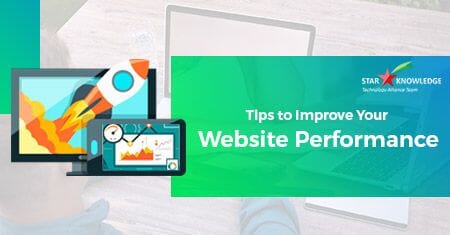 22 Feb

Tips to Improve Your Website Performance
22 FEB 2019
In today's digital world, there are millions of websites used every day for a variety of purpose. Unfortunately, many of these websites are heavy and inconvenient to use. Poorly optimized websites performance is overwhelmed with a number of issues including slow loading times, being non-user friendly, user incompatibilities, and so on.  These issues show that your website is not just losing conversion from new visitors currently on your website, but that loss is magnified to their friends and colleagues as well. The final result – lots of potentials leads down the drain because of a few seconds difference.
If you are serious about making your websites more user-friendly to both users and to Google, you should look at what Google recommends…
And also focus on our tips that you can use to enhance your website performance. By concentrating on a couple of different techniques, you can drastically expand the speed and overall performance of your site.
Below are some effective ways to speed up the website and make your every effort pay off in the long run.
Upgrade Your Web Hosting Plan
It's fair to say most first-time website owners select a common hosting plan. These hosting plans are very easy, low-cost and starter-friendly, and if your website remains the same, that hosting plan can be a perfect fit. But, if you give progressively content and your sites develop, eventually backing off. If that is your case, the best decision is to upgrade your web hosting plan. Then your users will be happy, your Search engine optimization (SEO) will remain strong, and your website will be able to grow and change as you need it to.
Enable leverage browser caching
The main cause why browser caching is essential is because it cut down the load on your web server, which ultimately reduces the load time for your users.
When you visit a website page, your program downloads all content of the specific page just as normal static documents like CSS and JS files. Furthermore, when you visit another page of the same website, your browser downloads them once more. In any case, if you have enabled Leverage Browser Caching, it will just download unique contains the web page and static files will serve from your program. In this way, you can accelerate the site.
It can help decrease the size of your website page, which can essentially diminish the time of time to download the asset, lessen information utilization for the user, and enhance the opportunity to initially render of your pages.
Clean up excess plugins
Excess of plugins can make your activity harder and more confounded than it should be. This can back off your site's stacking speed and furthermore, it can accidentally give security gaps People can abuse to get access to the backend of your website. If you have some website plugins installed that you no longer use or find unessential, you should deactivate and uninstall them.
Reduce HTTP Requests
The more HTTP requests, the more extended your website takes to load. What's more, bigger files will take significantly longer to exchange. The most effortless approach to lessen the number of HTTP requests for on your pages is to not utilize numerous pictures, contents, CSS, Flash, and so forth.
Minify JavaScript and CSS Files
Minification is the way toward limiting code and increase in your website pages and content files. It's one of the primary strategies used to reduce load times and transmission capacity use on sites.
Optimize Your Images
The significance of images in connecting clients to your items has been proven. If your website takes over 3 seconds to load, clients are bound to desert it which will radically expand your bounce rate and in the long run, it will influence your conversions. Image optimization enhances Page load speed, SEO ranking, boost conversations, enhance user engagement.
Change Your Website Theme
The subject of your site can likewise influence your website speed. Regardless of how great your server configuration is, if your website theme has a complicated code, your site will stack lazily.
Use a Content Delivery Network (CDN)
The main purpose of using a CDN is to enhance your user's experience as far as speed. Yet, CDNs not just only ensure a faster experience to your website user's, but also help to anticipate site crashes in case of traffic floods.
Fix Broken Links
The web is based on hyperlinks. Connecting between website pages is a fundamental feature. At the point when everything is well and great, each link on our site will lead precisely to the perfect spot. But sometimes Broken links on your site don't give the best impression. To evade these potential entanglements, you should regularly check for broken links on your whole website.
Use a Reliable CMS
A website is the focal point of your entire internet marketing strategy and your CMS is the core of your website. A CMS removes the middle man and empowers you to refresh and alter the content of your site. You'll pick up the capacity to make your site increasingly unique, more to-the-moment, and progressively profitable to your users.
Optimize Your Database
Optimizing your MySQL database tables is one method for making enhancements to your website. This is something you ought to do all the time, particularly if you use WordPress or some different CMS that depends a lot on database utilization.
Endnote:
Having a fast website has never been more imperative than it is today. Users want websites to be fast and, if you fail to reach their expectations, you will risk losing a lot of website traffic and, ultimately, you lose your loyal users or your revenue.
At Star Knowledge, there are three things we consider very seriously: website security, accessibility, and website load times/performance. We use some of the tools for performance testing which include GTmetrix, Pingdom, and Google's PageSpeed Insights.
We pay more attention to below things
How long media assets take to load? This may indicate images in the content that are the too large or too-high resolution.
Any scripts slowing down the site?
Any CSS or JS files that can be compressed to make downloading and rendering quicker?
Cookie-free domains
HTTP 404 (Not Found) error and so on.
If you're excited to learn more about website performance and how to make your site faster, browse through our support and maintenance services, contact us
Wondering what you can do to get your online business ready for the 2019 race? It's simple to let things slide….
Web Security is also known as 'Cyber Security' is about protecting Websites by detecting….
The client is a world class provider of best of breed IT hardware, software, services, and security….