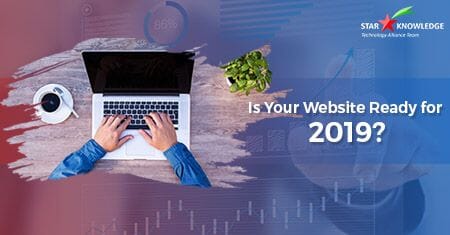 22 Feb

12 Must Things your Website needs to Improve User Experience
22 FEB 2019
Wondering what you can do to get your online business ready for the 2021 race? It's simple to let things slide, but one of the most important things you can do to get your website prepared is to make sure everything is up to date and displays accurate info.
A website can do great things for your business, from enhancing your reputation to driving more leads and sales. But did you build a responsive website? This is something we catch all the time.
With respect to this, we came up with a fresh 2019 website design trend predictions for your website that needs to be flexible to change with time.
Have a look at which are the things to consider before developing or revamping a website you need
Flexible, Responsive Design for the Best User Experience
The most important thing for a website is Responsiveness: because Responsive web design can advance user experience which will move into a positive awareness of your brand and business. If your customer can use your site easily on all platforms, they're more possible to return to your site for more business ahead and it more than likely means a higher conversion rate for your business.
Modular: Modular design has altered the way websites are built. The process involves making a flexible system of independent, reusable components instead of a static collection of pages.
Secure: One of the best things to keep your website secure is moving from a standard HTTP (Hypertext Transfer Protocol) to HTTPS (HTTP Secured), which adds an extra layer of security and encryption.
Hover effects on content
Links on the webpage contain text, but they should never look like text. When users read a webpage, they need to be able to recognize what's clickable. If your content with links doesn't have enough differences, users could miss them. So be careful while using it on the website. Below is an example of it.
Hover effects is considered as one of the tricks to improve user-experience (UX) and these hover effects won't work on mobile devices because there's no mouse cursor. This means that your mobile content links need to have high shading and shape differentiation on them before the user taps. Below is an example of it.
Whether your users are color-blind or not, everyone should be able to identify the links effortlessly. Adding a hover effect to your links on text is a simple and operative way to meet their needs.
Broken Grids & Asymmetrical Layouts
It is good to know about few things like grids and asymmetric layouts before developing a website because using the grid is one of the best ways you can improve your layouts. However, breaking out of a grid can present your website creativity, difference, and dynamism into your structure.
There are different ways to Break Out of the Grid on your website which include Animation Effects, Parallax Scrolling, Layering, Collapsing the Gutters, Containers, Whitespace, Accent Colors and Elements, Typography, Illustration, Pull Quotes. By using this a website can grab user attention helping to make them stay on webpages for a longer time.
And Asymmetrical layouts is one of the most impactful ideas in your design toolbox. It is an eye-catching technique that is interesting and provocative.
White Space
Whitespace is one of the most valuable elements of website design trend. It helps enhance readability and makes vital information easier for users to understand
The benefits of using white space on the website are
It increases content legibility
Capacity to highlight Call to Actions
More interaction with users and helps to increase conversions
It acts as a separator of unrelated elements in a design
It advances the user experience
Interactive Backgrounds
The interactive background is already taken on the role of the core decorative element of the website as it improves the visual experience of the website. There are some different modern unique backgrounds that take part in a competition to succeed.
Particle animation background
Waves of particle background
Layered parallax
WebGL experiment on the website background
An incredible website (creates the most leads) utilizes both content and images, to tell your business' story. Some of the small businesses get the content viewpoint right but miss out on the media part, which is similar to essential. An image can sell your product/services much better than anything you compose. Which is considered as the most important thing to be used in the website to increase user retention and decrease bounce rate.
Make your call to action strong and visible.
You should consider your website as your business sales rep; its main responsibility is to generate leads for your business. The only way it can do that is if it has a solid and visible CALL TO ACTION (CTA) on the website. The best CTAs are motivating forces that give the potential lead a reason to take the next step of action and purchase what you give.
Voice interfaces take place
Businesses website needs to roll out some necessary changes in their website processes to take advantage of technology as every business in the world today are implementing different things of technology matches their needs. With the explosion of voice assistants such as Alexa and Siri, conversational interfaces will undoubtedly turn into a characteristic part of an application's texture.
Chatbots
A website that can have real conversations is known as chatbots. A chat interface allows chatbots to converse with users.  For businesses, it has turned out to be important to solve the questions and glitches of the customers to ensure consumer loyalty along with the Website Brading. Here are the benefits of the chatbot.
Load Speed
It's clear that we all expect fast outcomes whether we are working on any device (ex. Mobile, desktop, tablet, or laptop). Consider how you use the internet every day. You're looking for a fast and immediate response. If your website loads fast, you've immediately made a solid first impression. It's a quick-win for user experience! If it loads fast, your new visitor is instantly happy.
If you what to know why website load speed is so important? What difference does a fraction of a second make?  and need to improve your website performance and speed – click here.
Content
The key to a successful website is having strong, relevant, and keyword-rich content that conveys the correct message with influence and conviction. Your motivation might be to give information, to sell something, or to offer a service. You ought to dependably enhance your website in such a way that search engines know what it's about. That way, search engines will realize when to demonstrate your website and its pages in the list items for relevant search queries.
Interactive video
The best videos catch the user in an initial couple of seconds and don't need sound to be efficient. Use time-lapse videos or sequencing methods to make your product appear easy to use.
Planning, Designing, and Developing a site for your private company doesn't have to be a headache. But keep in mind these key guidelines above and you'll have a website that looks extraordinary as well as gets more clients!
We at Star Knowledge build every web design project with passion and determination, from primary research and data analysis to post-launch support & maintenance. Our projects deliver mobile-friendly customer experiences and yield solid outcomes in enhanced website speed & performance, SEO, and revenue. But don't take our word for it — see with your own eyes.
Web Security is also known as 'Cyber Security' is about protecting Websites by detecting….
The client is a world-class provider of best of breed IT hardware, software, services, and security….
Hoping to extend your business employing an e-commerce solution? Here are a few actualities that may help B2B e-commerce to get….