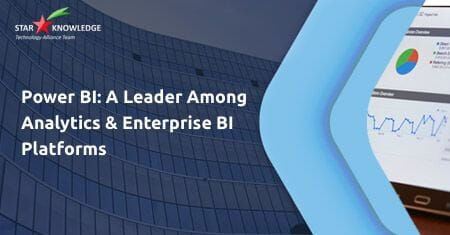 30 Aug

Power BI: A Leader Among Analytics & Enterprise BI Platforms
30 Aug 2019

Microsoft Excel was considered as one of the best Traditional Reporting tools. Let's agree that Excel is an incredible program most widely used and has traditionally been the go-to reporting tool for the majority of businesses, but it was never meant to be a reporting tool. If you're using it for ad hoc calculations and storing data, Microsoft Excel is very useful. But for more complex reports it is not advisable. As reporting tools, however, they can be cumbersome and lacking in interactivity. Excel dashboards have to be updated manually which is labor-intensive and slows down the flow of information.
Power BI is a business analytics solution that helps to deliver insights enabling fast & informed decisions. Here's what you do with Microsoft Power BI:
Transform data into stunning visuals and share them with colleagues on any device.
Visually explore and analyze data—on-premises and in the cloud—all in one view.
Collaborate on and share customized dashboards and interactive reports.
Scale across your organization with built-in governance and security.
Power BI offers powerful analytics and reporting features for most of the enterprises. With faster experimentation with visualizations, statistical functions, and calculations across broad datasets, and the ability to derive answers on the fly through the rapid recombination of fields. Power BI is also a business analytics solution that not only visualizes your data and shares insights across your organization but also embeds them in your app or website by connecting it with hundreds of data sources to bring your data to life with live dashboards and reports.
Power BI does not need any complex coding. It operates in following 3 steps:
Why Power BI is a Leader among Analytics & Enterprise BI Platforms
Different teams make use of Power BI as per their requirements. Here's how each team is benefited from Microsoft Power BI:
Analysts use Power BI to create interactive data visualizations from multiple data sources and share important business insights across the organization.
Power BI is a tool that Simplifies management, achieves compliance, and keeps data secure while giving people access to the insights they need.
Since most of the employees in the organization already use Microsoft Products, using Power BI reduces your training and support costs by taking advantage of these familiar tools as part of your enterprise BI deployment.
It has Lower implementation costs – It can be deployed and managed the same way as Office 365 and other Microsoft solutions you run in your organization.
It helps to keep tabs on your enterprise data. It centrally controls how data is accessed and used — even on mobile devices. Set and monitor policies, detect anomalies and act.
They Embed Power BI in apps, websites, and portals. Embed stunning, interactive data visuals in applications, websites, portals, SharePoint, Microsoft Teams, and more, to showcase your business data in context. Using Power BI REST APIs and the Power BI SDK, developers can easily embed interactive reports and dashboards, so your users can enjoy consistent, high-fidelity experiences across devices.
Conclusion
Power BI is an easy tool to use that helps propel organizations into a data driven culture. With unique self-service abilities, no longer business or users are dependent on IT teams for gathering, transforming and analyzing data. Automation of dataset integration, ease of expansion into new data sources, rapid visuals, and easily deployable Row-Level Security (RLS) are amongst the many reasons Power BI is a necessity.
Additionally, a cloud-based collaboration environment with features like Natural Language Query eases the process of data governance. In the age of analytics, it's important for organizations to intelligently utilize the data they collect to rapidly evolve with changing business and consumer habits.
The future is bright and shiny for analytics – companies are swarming to incorporate data visualization, and to do away with tabular reports with huge reams of numbers. With some quick retooling, you too can be a Power BI superstar for your organization!
At Star Knowledge, we provide Power BI implementation services for powerful data discovery, dashboards, visualization, business reporting, and self-service analytics. As a Microsoft Gold partner, our Power BI consultants and developers use their expertise to create visualization and reporting solutions that empower users to create, collaborate and benefit from insights gained through analytics.
As you are aware DevOps has become a prime focus and is influencing the world of software a lot, in the last……
The client is one of the leading construction companies in North America.The Client currently uses SharePoint……
Minimum Viable Product (MVP) is a commonly used terminology in the Start-up ecosystem but is not necessarily limited…..