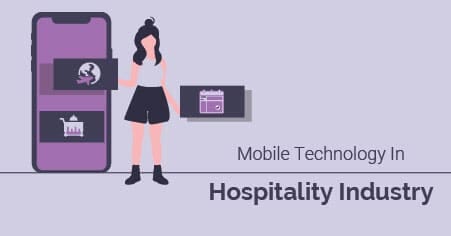 21 Sep

Mobile technology in hospitality industry – How it is redefining the industry
21 SEP 2021
Nowadays, every industry needs mobile technology for everything and the sectors of the hospitality industry are no exception. The recent pandemic has shattered the business of this industry. To cope up with these challenges the hospitality sectors need to adapt to new technologies and innovations to attract customers.
With the strict regulations and rigid health standards, it is tough for the industries to comply with the rules and regulations. But the Innovative mobile apps are helping these businesses to redefine their customer experiences, enabling them to give the best services to revive their bookings.
Let us look deep into the topic and understand why sectors of the hospitality industry should launch their mobile app,
People expect businesses to have a mobile app:
In recent days people are finding ways to solve their inquiries about travel destinations, transportation means, restaurants nearby, accommodation facilities, entertainment, recreational facilities, and to book a hotel. People expect to get their details verified easily for a quicker check-in process and to interact with the service provider through the app rather than through email, web browser, or phone. Now it is time for you to get the app for your business, or people may decide to book elsewhere.
Apps make life simpler for you and your customers:
Apps help you to communicate easily with your customers and also allows them to clarify their doubts, make any requests for special deals or offers at their fingertips, and also allows you to obtain feedback to improve customer service. You can also integrate social media channels or push notifications in the mobile app so that your customers will never miss any offers or updates.
Buildup your brand loyalty:
Mobile technology in the hospitality industry helps business owners to collect feedback about their services. If there are any potential negative reviews, that provides an opportunity to rectify and work towards customer satisfaction and brand loyalty. Service providers can also ask their customers to share their experiences on social media through their apps which help to build their brand loyalty.
Give direct access to your guests:
People always look for convenience on a trip and will be wanting to communicate faster with the hotel staff or trip organizers, and the mobile apps will help staff to address the guest faster and improve the efficiency of communication. This helps you to potentially capture the business quickly before they look elsewhere.
Apps Encourages Self-service:
Mobile apps with the best UI UX help to give personalized service to people that allows them to make their own choices, this also helps you to boost your staff's mobility without sacrificing productivity.
The best example is the hotel industry, where the self-service model is helping this industry to provide customized services to its customers without compromising the quality of the service. Some of the hospitality technology solutions offered by hotels are check-ins and check-outs, dinner reservations, Laundry and dry cleaning, Room service orders, online payments.
Apps help to Achieve customers trust post-Pandemic:
Pandemic has turned the lives of most people. People are becoming touch-free and considering staying at home instead of traveling. But this is not the end of mobile apps that can still help the hotel industry to connect with their guests where hotels can update videos about hygiene, safety practices, and cleaning methods on their apps.
Conclusion:
Post-Pandemic people have become more conscious about their choices, and they expect hotel rooms, food services to be clean. By adopting advanced mobile technology in the hospitality industry, you can re-evaluate the practices and risks to serve the clients. You can also display videos about hygiene activities carried out to win the trust of your customers.
At Star Knowledge, we provide custom app solutions that transform your business and ensures ROI providing value for both you and your customers. Contact us for your specific mobile app development.
As we know business process management is not about managing a task or project, rather detailed attention towards process management…
Enabling users' ability to use digital touchpoints undisturbed is what digital adoption means, digital portals that assist users…
One of the common challenges faced by organizations is to provide their employees a platform to help them succeed in their career goals…