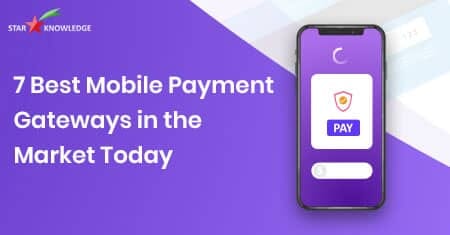 18 Sep

7 Best mobile payment gateways in the market today.
18 SEP 2020
There are plenty of mobile payment gateways available in the market today, so it is hard to choose the best payment gateway that fits your business needs. For the business to carry out secured online transactions, it is necessary to adopt a better payment gateway.
Hence, here is the list of best mobile app payment gateways which can be adopted for your business to achieve hassle-free transactions.
PayPal
Authorize.net
Amazon Pay
2CheckOut
Brain tree
Stripe
WePay
TransferWise
Razor Pay
PayPal
PayPal offers mobile app payment gateway service to its merchants at a low-cost rate, though it doesn't charge for the purchase transactions for personal users it may charge around 1% of the total transaction balance for instant transactions. And as it has acquired Braintree payment gateway since 2013 it will not make any difference by choosing PayPal payment gateway or Braintree.
For business transactions, PayPal may charge their merchants at a rate of 2.9% (Maximum) for their transactions without any setup and per-transaction fees, hence it will be a good choice to opt for lower-level businesses to start with this to avoid additional charges for their business transactions.
Easy and secure ways of setting up a PayPal account at the customer end, worldwide transaction facilities have increased the user base for this mobile application payment gateway. Which also offers credit card services for their customers through their partner bank networks.
Authorize.Net
Authorize.Net mobile payment gateway accepts all credit and debit card payments along with eChecks provides users a function to save their credit card detail for faster and easier transactions (10 credit card limits for a customer).
Authorize.Net can accept business transactions throughout the world only if your business is registered in any of the countries likely America, Canada, Australia, UK, or Europe. Along with the facility to accept transactions from different credit cards—Visa, MasterCard, American Express, Dinner, etc., — it also accepts payments from Apple Pay, Visa checkout, etc., Authorize.Net offers their merchants with a setup fee of 49$ and monthly payment gateway fee of $25 along with batch fee and the transaction fee of $0.10 each.
Automated billing, automated confirmed or canceled transaction messages of Authorize.Net payment gateway has increased credibility in their customer transactions. If you are planning for a web application with an international Payment gateway, then authorize.net could be one of your choices.
Amazon Pay
Amazon app payment gateway is the best payment gateway as it is now offering the merchants a mobile application payment gateway, that is Amazon pay customers now can pay on third party websites using their existing Amazon pay account or E-wallet, without giving any credit/ debit card details.
Amazon Pay offers their merchants with the same price of 2.9% + 0.30 per transaction as many of the Payment gateways are offering with the same structure, but Amazon offers no setup fee or hidden fee merchant account currently.
Amazon Pay's (Alexa) featured voice booking, Simple steps in adopting Amazon pay widget on the mobile app, faster and secured amazon transactions with Amazons A-Z guarantee helps in lessening cart abandonments, will be the main reasons for many merchants to go with Amazon Pay mobile application payment gateway.
2CheckOut
2CheckOut gateway accepts all major types of credit and debit card transactions with E-wallet transactions. By accepting transactions from all major countries throughout the world.
2CheckOut charges differ from 2.4% to 3.9% per day charges and 0.3$ to 0.45$ per transaction depending on the seller's country and business without any additional fee.
Along with mobile app payment gateway integration and 24*7 support, 2CheckOut charges its merchants only for the successful transactions which are more suitable for the startup or small e-commerce businesses to choose 2CheckOut mobile payment gateway.
Brain tree
A Brain tree is a division of PayPal and offers its customers with all the features and services offered by PayPal.
Brain tree charges their merchants a rate of 2.9% on total daily transactions and a 0.3$ on each transaction without any additional fees.
Stripe
Stripe is the fast-growing payment gateway provider in many of the major countries around the world. Stripe Payment gateway accepts all major debit/ credit card transactions, with E-Wallets and store visit transactions.
Stripe payment gateway charges 2.9%+ 0.30$ for domestic transactions without any setup or additional fee, with a 1% increase in charges for the international business transactions.
Access to integrate payment gateway API into the mobile app, Customizable payment process, access to build own subscription models, a reminder system, no refund fee, and many more are the best key features for the businesses to opt for Stripe mobile app payment gateway.
WePay
WePay payment gateway offers its services only in America, Canada, and the United Kingdom. And accepts all credit/debit cards, E-wallets, and ACH payments from its customers.
WePay is the best mobile payment gateway for the small business to adopt because of its no setup, no monthly, and no hidden fees. WePay payment gateway charges its merchants with a standard 2.9%+0.3$ for transactions along with 25$ as a research fee.
WePay provides payment gateway integration API for mobile apps to increase credibility in customer transactions along with low-cost, 24*7 support, secured transactions are the benefits to have WePay app payment gateway.
Here are some best performing payment gateways except the top 7 mobile payment gateways in the market, and these are the payment gateways you can still consider to integrate your mobile or web application to handle hassle-free transactions internationally.
Razor Pay
Razor Pay payment gateway will be the future payment gateway to conduct hassle-free domestic as well as international transactions, as it offers a low-cost gateway having the ability to conduct bank transactions, check transactions, UPI, Credit card, debit card transactions, etc.,
This gateway offers its service with no setup fee and zeroes annual maintenance cost. Razor Pay charges its merchants 1.8% of the overall transaction amount for every successful transaction and an additional 1% for international transactions.
Razor Pay provides a simple and smooth business transaction and its transparency with its merchants helped them increase their foot globally. These gateways can be deployed on Mac, Windows, cloud apps, cloud applications, IOS, and android, ETC., they also provide in-person and online training along with 24/7 live representatives.
TransferWise
Transfer wise provides better and much cheaper transaction rates when compared to PayPal, this does support international transactions (US, UK, Euro, Australia, New Zeeland), TransferWise exchanges, and transfer currencies to the international receiver. By allowing you to keep different currencies in your account.
As TransferWise allows international currency conversion and transactions it charges normally of 3.75% – 4% as exchange rates and an additional 0.5% for international transactions, with a fixed 1.99 EUR for USA, Canada, and Europe.
Its features of transfer fee calculator, tools for generating invoices, bulk amount transactions, ability to keep multi-currency, able to automate much payment process through API, etc., are the feature enables its users to ease their work of payment transaction.
Increased online business caused online transactions to grow exponentially, with increased mobile app payment gateway service providers. Contact us to implement the best fit solution for your business.
One such mobile app development trend in the recent years that's breaking the charts is Flutter app development.
The Client is an Entertainment start-up based out of Alberta…………
The digital age is transforming every business, every industry rapidly and the Real Estate industry is no exception